Tonia Kirschner, M.Sc.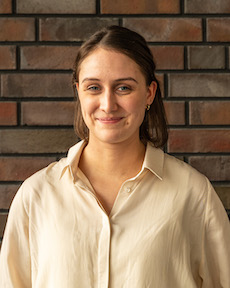 Position: PhD-Student
Room no.: CP-02-111
Telephone no.: +49 231 755 7054
Member of the group since: 01/2021
University Degree: M.Sc. in Chemical Biology, TU Dortmund University
Expertise: Organic and nucleotide synthesis, structure-based drug design, protein crystallization, biochemical evaluation
Off-Lab activities (hobbies): Yoga, cooking, travelling
Research projects:
Ras proteins are small GTPase enzymes and act as major keys in highly regulated cellular processes. By cycling between the inactive GDP-bound to the active GTP-bound state they control cell proliferation and differentiation. Activation mutations are common features accounting for about 30% of human cancers. Ras oncogenes were identified as attractive drug targets due to their prominent role in cancer but attempts to target Ras have been unsuccessful until recently. However, the first-in-class KRas G12C inhibitor Sotorasib (Amgen) was approved by the FDA for the treatment of NSCLC in May 2021. This novel inhibitor binds irreversibly to the C12 within the switch- II pocket which was discovered by the SHOKAT lab. This breakthrough confirmes the therapeutic susceptibility of mutant KRas and is a new beginning to address the clinical need for new strategies directly targeting Ras.
Within this work, we focus on the development of modified nucleotide analogues that can covalently bind to an oncogenic variant of Ras.
Earlier positions:
Master studies on the medicinal chemistry-based optimization of covalent allosteric Akt inhibitors in the group of Prof. Dr. Daniel Rauh, TU Dortmund University
Research assistant in the group of Prof. Dr. Daniel Rauh, TU Dortmund University
Working student at A.S.I. Wirtschaftsberatung AG Münster
Bachelor studies on structure-based design and synthesis of inhibitors of the ErbB-family in the group of Prof. Dr. Daniel Rauh, TU Dortmund University