Kirujan Jeyakumar, M.Sc.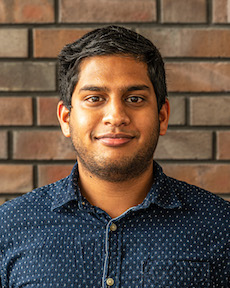 Position: PhD Student
Room no.: CP-02-112
Telephone no.: +49 (0)231 755 7056
Email: kirujan.jeyakumar@tu-dortmund.de
Member of the group since: 11/2017
University degree: M. Sc. in Chemical Biology, TU Dortmund University
Earlier positions:
Bachelor Studies at the TU Dortmund in the group of Prof. Dr. Dennis Schade on cultivation,characterization and differentiation of hIPSC and mESC
Master studies at the Max-Planck-Institute of Molecular Physiology in the group of Dr. Andrey Antonchick on metal-free C–H bond functionalization, metal-free C-O activation, multicomponent reactions, DNA-encoded libraries and metal-free radical azidoarylation
Expertise: organic synthesis, parallel synthesis, small scale synthesis, multiparameter optimization, biochemical assays, stem cell culture, stem cell differentiation, cellular assays
Off-Lab activities (hobbies): music, sports, cooking, games, reading, spending time with Friends
Research projects:
As an alternative to chemotherapy in the context of non-small cell lung cancer, small molecule treatment is an effective strategy. This medicinal chemistry project aims at targeting mutants of the ErbB receptor tyrosine kinase family (EGFR, HER2). Techniques and strategies compromise structure-based drug design, organic synthesis and evaluation of synthesized compounds in biochemical and cellular assays.
Publications:
Luis Bering, Kirujan Jeyakumar and Andrey P. Antonchick, "Metal-Free C–O Bond Functionalization: Catalytic Intra- and Intermolecular Benzylation of Arenes", Org. Lett. 2018, Article ASAP. DOI: 10.1021/acs.orglett.8b01495