Suzanne Willems, Dr. rer. nat.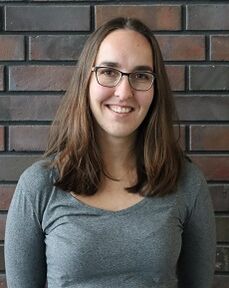 Position: Postdoc
Room no.: CP-02-112
Telephone no.: +49 231 755 7056
Member of the group since: 01/2023
University degree: Dr. rer. nat. in Organic Chemistry, MPI für Kohlenforschung
Expertise: Homogenous Catalysis, Organic Synthesis, DNA-conjugation Chemistry
Off-Lab activities (hobbies): Sports (field hockey, cycling, karting), Reading Books (currently: Salonfähig by Emil Hirschl), Cooking (favorite dish: Bobotie)
Research projects: My current project is focused on the development of inhibitors for the 2-oxoglutarate-dependent dioxygenase, ten-eleven translocase 2 (TET2). This enzyme recognizes a DNA-sequence containing 5-methylcytosine, and selectively catalyzes the hydroxylation of the methyl-substituent using an Fe-active center, resulting in the removal of the epigenetic mark. My aim is to identify a new molecular tool that can manipulate TET2 activity and to contribute to the understanding of the function of TET2 in a cellular system. Our research employs structure-based design approaches and in silico screening to identify promising small molecules that are synthesized in focused libraries. The efficacy of the inhibitors is evaluated using a semi-high-throughput MALDI assay and cellular assays. Ultimately, this work has the potential to provide valuable insights into the regulation of gene expression.
Earlier positions:
Undergrad studies in Chemical Biology at the TU Dortmund with a focus on organic chemistry and medicinal chemistry.
Doctoral studies in the group of Prof. Bill Morandi at the MPI für Kohlenforschung designing and developing sustainable homogeneous cross-coupling reactions
PostDoc stay in the group of Prof. Andreas Brunschweiger at the TU Dortmund designing, synthesizing and applying DNA-encoded libraries