Jonas Warmuth, M.Sc.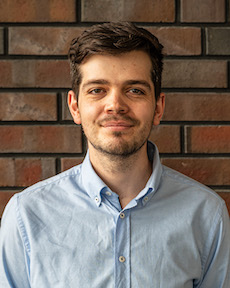 Position: PhD-Student
Room no.: CP-02-111
Telephone no.: +49 231 755 7056
Member of the group since: 02/2017
University Degree: M.Sc. in Chemistry, TU Dortmund University
Expertise: organic synthesis, structure-based design
Off-Lab activities (hobbies): playing guitar, gardening: vegetable breeding of ancient fruit and vegetable varieties to promote biodiversity, strong interest in including modern technology into the classical manual field of gardening to promote efficient and automated workflows
Research projects:
As all human beings live in an asymmetric, three-dimensional macro-environment, it is not surprising that nearly all molecular building blocks of life exhibit chiral properties. Due to the phenomenon of homochirality amino acids can form a conglomerate of distinct superstructures in proteins, leading to the formation of three-dimensional binding pockets in the overall surface. In the past years, a lot of medicinal chemists put efforts into the design and construction of flat hetero-aromatic small molecule libraries to address those pockets, resulting in narrowed use of synthetic methods. Nevertheless, since the introduction of the concept "Escape from Flatland" in the year 2009 a paradigm shift has appeared and more saturated compounds are concerned within library design.
In this project, the design and synthesis of an sp3-rich Fragment library is pursued to redraw the imagination of standard Fragment libraries. As a central challenge, the establishment of modern and efficient synthetic methods to ensure the generation of diverse and three-dimensional scaffolds must be faced. In addition to that, an X-ray-based screening will be performed to identify potential hits.
Earlier positions:
Bachelor studies at TU Dortmund in the working group of Prof. Dr. Martin Hiersemann on lipase-mediated dynamic kinetic resolutions of silylsubstituted allylalcohols in the context of the totalsynthesis of (±)-Menverin C; Master studies at TU Dortmund in the working group of Prof. Dr. Daniel Rauh group on development and synthesis of mutant-selective kinase inhibitors.