Shivakrishna Kallepu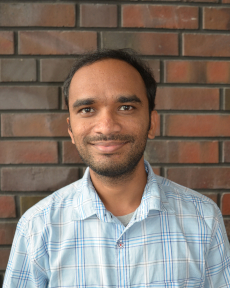 Position: Postdoctoral Fellow
Room no.: CP-02-112
Telephone no.: +49 (0)231 755 7056
Email: shivakrishna.kallepu@tu-dortmund.de
Member of the group since: 07/2019
University Degree: Ph.D. in Chemistry (Research Supervisor: Dr. S. Chandrasekhar, CSIR-IICT)
Earlier positions: Master studies in organic chemistry at the NIT-Warangal and Bachelor degree from Kakatiya
University.
Expertise: Organic synthesis, transition-metal catalysis, natural products chemistry.

Off-Lab activities (hobbies): Listening to music, playing chess, reading.
Publications:
S. Kallepu, P. K. Neeli, S. Mallappa, N. K. Nagendla, M. K. R. Mudiam, P. S. Mainkar, S. Kotamraju, S. Chandrasekhar ''sp3-rich glycyrrhetinic acid analogues using late-stage functionalization as potential breast tumor regressing agents'' ChemMedChem., 2020, 15, 1826 –1833.
S. Kallepu, K. Sanjeev, R. Chegondi, P. S. Mainkar, S. Chandrasekhar ''Benzyne insertion onto β-keto esters of polycyclic natural products: Synthesis of benzo octacyclo scaffolds'' Org. Lett., 2018, 20, 7121−7124.
S. Kallepu, M. Kavitha, R. Yeeravalli, K. Manupati, S. S. Jadav, A. Das, P. S. Mainkar, S. Chandrasekhar. ''Total synthesis of desmethyl jahanyne and its lipo-tetrapeptide-conjugates derived from parent skeleton as BCL-2 mediated apoptosis inducing agents'' ACS Omega., 2018, 3, 63−75.