Shivakrishna Kallepu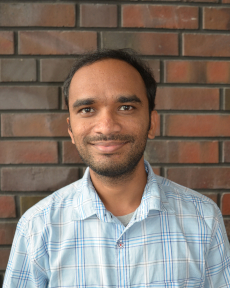 Position: Postdoctoral Fellow
Room no.: CP-02-112
Telephone no.: +49 231 755 7056
Member of the group since: 07/2019
University Degree: Dr. rer. nat. in Chemistry (Research Supervisor: Dr. S. Chandrasekhar, CSIR-IICT)
Expertise: Organic synthesis, transition-metal catalysis, natural products chemistry.
Off-Lab activities (hobbies): Listening to music, playing chess, reading.
Research projects:
The majority of commercial fragment libraries mainly consists of flat sp2-structures, which necessarily address a limited spectrum of the chemical space. Hence, structures with 3D-architecture remain in high demand due to their given complementarity to putative protein targets. So, my current project involves in design and synthesis of sp3-rich fragment library. This library will be screened employing protein X-ray crystallography to identify fragment hits that potentially can be grown and optimized by chemical modification to generate lead-structure ultimately.
Curriculum Vitae:
Master studies in organic chemistry at the NIT-Warangal and Bachelor degree from Kakatiya University.
Publications: