Nadine Schmidt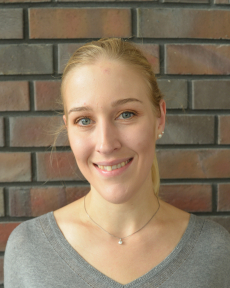 Position: Biological Technical Assistant (Biologielaborantin)
Room no.: CP-02-113
Telephone no.: +49 (0)231 755 7087
Email: nadine2.schmidt@tu-dortmund.de
Member of the group since: 09/2019
Earlier positions:
November 2018 – August 2019
Lab Technician in the research group of Prof. Daniel Summerer at TU Dortmund
(http://www.ccb.tu-dortmund.de/fb03/en/Fields_of_research/CB/Summerer/index.html)
June 2013 – October 2018
Lab Technician in the research group of Dr. Alex Bird at MPI Dortmund
(http://bird-lab.org/index.html)
June 2011 – June 2013
Lab Technician at 'Dortmund Protein Facility (DPF)' at MPI Dortmund
(https://www.mpi-dortmund.mpg.de/forschung/services/dpf-protein-facility)

Expertise: Tissue Cell Culture, Insect cell culture, Cloning, Protein Purification
Off-Lab activities: Singing (Choir), Sports (gym courses), meeting friends and family
Publications:
Shweta Bendre, Arnaud Rondelet, Conrad Hall, Nadine Schmidt, Yu-Chih Lin, Gary J.
Brouhard, Alexander W. Bird 'GTSE1 tunes microtubule stability for chromosome alignment
and segregation by inhibiting the microtubule depolymerase MCAK', Journal of Cell Biology
(2016) Vol. 215 No. 5 631–647.