Marius Lindemann, M.Sc.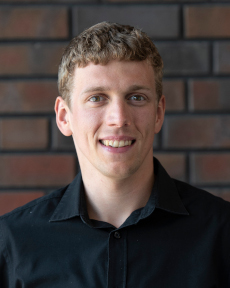 Position: PhD Student
Room no.: CP-02-111
Telephone no.: +49 231 755 7054
Member of the group since: 06/2016
University degree: M. Sc. in Chemical Biology
Expertise: organic synthesis, in vitro protein labelling
Off-Lab activities (hobbies): triathlon, skiing, parlor games
Research projects:
The protein kinase Akt is a central component of the PI3K/Akt/mTOR signaling pathway and responsible for the orchestrations of various cellular processes. Dysregulated Akt signaling is linked to cancer and renders Akt an attractive drug target. The conformation of the regulatory PH domain of Akt plays a crucial role in kinase functions beyond the classic enzymatic phosphotransfer. Thus, this medicinal chemistry project focus on the design and synthesis of inhibitors and functional probes to lock the PH domain in an inactive conformation. The structure based design of functional probes results in a set of innovative fluorescent probes which covalently modify and inhibit the protein kinase Akt and enables the potential to dissect the complex functions of Akt in the onset of cancer.
Earlier positions:
Bachelor studies at the TU Dortmund in the group of Andreas Brunschweiger on the synthesis of xanthine derivatives for DNA encoded libraries
Publications:
Uhlenbrock, N.; Smith, S.; Weisner, J.; Landel, I.; Lindemann, M.; Le, T. A.; Hardick, J.; Gontla, R.; Scheinpflug, R.; Czodrowski, P.; Janning, P.; Depta, L.; Quambusch, L.; Müller, M. P.; Engels, B.; Rauh, D.. Structural and chemical insights into the covalent-allosteric inhibition of the protein kinase Akt. Chem. Sci. 2019, 10 (12), 3573–3585.

Weisner, J.; Landel, I.; Reintjes, C.; Uhlenbrock, N.; Trajkovic-Arsic, M.; Dienstbier, N.; Hardick, J.; Ladigan, S.; Lindemann, M.; Smith, S.; Quambusch, L.; Scheinpflug, R.; Depta, L.; Gontla, R.; Unger, A.; Müller, H.; Baumann, M.; Schultz-Fademrecht, C.; Günther, G.; Maghnouj, A.; Müller, M. P.; Pohl, M.; Teschendorf, C.; Wolters, H.; Viebahn, R.; Tannapfel, A.; Uhl, W.; Hengstler, J. G.; Hahn, S. A.; Siveke, J. T.; Rauh, D.. Preclinical Efficacy of Covalent-Allosteric AKT Inhibitor Borussertib in Combination with Trametinib in KRAS-Mutant Pancreatic and Colorectal Cancer. Cancer Res. 2019, 79 (9), 2367–2378.