Lisa Goebel, M.Sc.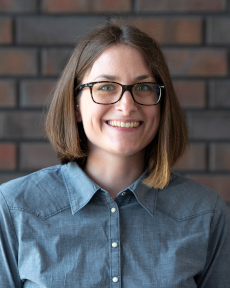 Position: PhD Student
Room no.: CP-02-112
Telephone no.: +49 231 755 7056
Member of the group since: 05/2017
University degree: M.Sc. in Chemical Biology, TU Dortmund University
Expertise: organic synthesis, biochemical evaluation
Off-Lab activities (hobbies): cooking, sports, travelling, music
Research projects:
Ras proteins act as key regulators of many cellular processes including cell proliferation, survival and apoptosis. They do so by switching between an inactive GDP-bound and an active GTP-bound state, the latter of which can specifically activate several downstream signaling pathways. Mutations within Ras proteins that exhibit a defect in the switch mechanism and change the relative abundance of the active and inactive state represent major drivers in human cancer, but even 30 years after the initial discovery of the Ras oncogenes in 1982, cancers driven by mutated Ras remain untreatable by small molecule intervention. However, novel knowledge and approaches for direct targeting mutant Ras have recently been successfully developed and have created novel hope. The work comprises the structure-based design, synthesis and biochemical evaluation of modified nucleotide analogues that can covalently bind to an oncogenic variant of Ras.
Earlier Positions:
Bachelor studies at the TU Dortmund University in the group of Prof. Dr. Daniel Rauh on synthesis of covalent EGFR inhibitors
Training as a technical assistant in biology (BTA) at the Rheinische Akademie gGmbH Cologne (RAK)
Publications:
Goebel, L.; Müller, M. P.; Goody, R. S.; Rauh, D.. KRasG12C inhibitors in clinical trials: a short historical perspective. RSC Med. Chem. 2020, 11 (7), 760–770.

Wolle, P.; Engel, J.; Smith, S.; Goebel, L.; Hennes, E.; Lategahn, J.; Rauh, D.. Characterization of Covalent Pyrazolopyrimidine-MKK7 Complexes and a Report on a Unique DFG-in/Leu-in Conformation of Mitogen-Activated Protein Kinase Kinase 7 (MKK7). J. Med. Chem. 2019, 62 (11), 5541–5546.

Engel, J.; Smith, S.; Lategahn, J.; Tumbrink, H. L.; Goebel, L.; Becker, C.; Hennes, E.; Keul, M.; Unger, A.; Müller, H.; Baumann, M.; Schultz-Fademrecht, C.; Günther, G.; Hengstler, J. G.; Rauh, D.. Structure-Guided Development of Covalent and Mutant-Selective Pyrazolopyrimidines to Target T790M Drug Resistance in Epidermal Growth Factor Receptor. J. Med. Chem. 2017, 60 (18), 7725–7744.