Lena Quambusch, Dr. rer. nat.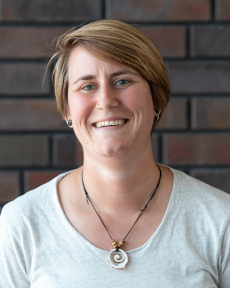 Position: Postdoctoral Fellow, scholarship holder of Studienstiftung des deutschen Volkes
Room no.: CP-02-111
Telephone no.: +49 231 755 7054
Member of the group since: 10/2016
University degree: Dr. rer. nat., Medicinal Chemistry and Chemical Biology, TU Dortmund University
Expertise: organic synthesis, 2D-NMR, structure-based drug design
Off-Lab activities (hobbies): running, bouldern, theatre, soccer
Research projects:
The protein kinases Akt1, Akt2, and Akt3 are central regulators within cellular signaling networks and transmit oncogenic signals. Even though all three isoforms are highly conserved and it is known that they are involved in many essential processes including proliferation, survival, and metabolism, the individual roles of the different isoforms in health and disease states have not been evaluated thoroughly. To date, only invasive genotypic knock-out studies are reported, and there is an urgent need for pharmacological perturbation studies to dissect the functional role of the individual Akt isoforms. We want to rationally designed and synthesized covalent-allosteric inhibitors with an ideal selectivity profile towards Akt isoforms and further functionalize those as potent probes to eventually allow for the dissection of the biological functions of Akt1, Akt2, and Akt3.
Earlier positions:
Exchange Semester, University of Vermont, USA
Head chef/cook at Ruf Reisen GmbH, Bielefeld
Waitress at servgast GmbH, Dortmund
Elected Representative in several committees (Student parliament, Faculty board, Election board etc.)
Publications: